In today's Gospel reading our Lord encourages us to have childlike confidence in and dependence on God:
Amen, I say to you, unless you turn and become like children, you will not enter the Kingdom of heaven. Whoever becomes humble like this child is the greatest in the Kingdom of heaven (Mt. 18:3-4)
Not only did Christ tell us to enter the Kingdom of heaven as little children, he showed us the way by litterally becoming a little child himself – even an infant in the womb, completely dependent on His mother for everything.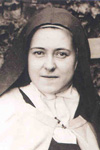 This is how St. Therese articules what she called her "Little Way" of spiritual childhood (from Story of a Soul):
I look upon myself as a weak little bird, with only a light down as covering. I am not an eagle, but I have only an eagle's EYES AND HEART. In spite of my extreme littleness I still dare to gaze upon the Diving Sun, the Sun of Love, and my heart feels within it all the aspirations of an Eagle.

The little bird wills to fly toward the bright Sun that attracts its eye, imitating its brothers, the eagles, whom it sees climbing up toward the Divine Furnace of the Holy Trinity. But alas! the only thing it can do is raise its little wings; to fly is not within its little power!

What then will become of it? Will it die of sorrow at seeing itself so weak? Oh no! the little bird will not even be troubled. With bold surrender, it wishes to remain gazing upon its Diving Sun. Nothing will frighten it, neither wind nor rain, and if dark clouds come and hide the Star of Love, the little bird will not change its place because it knows that beyond the clouds its bright Sun still shines on and that its brightness is not eclipsed for a single instant…

Jesus, I am too little to perform great actions, and my own folly is this: to trust that Your Love will accept me as a victim. My folly consists in begging the eagles, my brothers, to obtain for me the favor of flying toward the Sun of Love with the Divine Eagle's own wings!