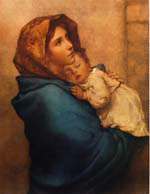 I am in the middle of renewing my Total Consecration to Jesus through Mary this year so I was pleased to find this passage in The Way recently:
The love of our Mother will be the breath that kindles into a living flame the embers of virtue that are hidden under the ashes of your indifference. ~St. Josemaria Escriva, The Way n. 492
When we give ourselves completely to Mary she gives herself completely to us in return, sharing with us her own glorious virtues. She purifies all of our good works and intentions offered to her in confidence, offering them in turn to Christ who never refuses what is given to him from the hands of His Holy and Immaculate Mother (True Devotion – book, online – nos. 144, 146, 149).