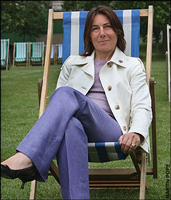 Here is a wonderful article/interview about Italian noble Princess Alessandra Borghese who made a dramatic return to her Catholic faith a number of years ago. Of this faith she said:
'Catholicism is not a philosophy, neither is it a theology, but it is a meeting with a person. So the moment you meet Jesus Christ, your life can change radically. That is when I started to look at everything differently.'
She had an excellent answer to those modern Catholics who want the Church to allow women priests and other such nonsense:
'If you're Catholic and want to be a woman priest, join the Anglicans or the Protestants. Why do you want to change the Catholic tradition according to your point of view? If you look at Holy Mary, you see that her grandeur was not because she did anything, but because she was able to stand behind something bigger.'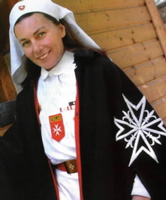 Nicely done!
In 2004 she wrote a book about her return to faith titled With New Eyes that became a bestseller in Italy and throughout Catholic Europe. Now she has written a new book focusing on the early childhood and upbringing of Pope Benedict XVI. In In the Footsteps of Joseph Ratzinger, Borghese takes readers to various sites associated with the young Pope in his native Bavaria. During her extensive research into the early years of our Holy Father, Princess Alessandra has found:
'There is nothing to defend the Pope's reputation about. People have tried to find hidden things, relationships with Nazis, but there is nothing. He was a young boy. He was a soldier. He did his job. He did what every other young boy would have done then. And then he became a priest. There is nothing to be discovered. No scandal.'
I hope the book will be made available in the United States.
The Borghese family has a long history with the Church, producing Cardinals and even popes. Most notably Pope Paul V who the princess said was 'so important that his name is written on the façade of Saint Peter's Basilica itself, along with our coat of arms.'