An interesting music video set to a song from Mr. T – yes, I said a song from Mr. T (h/t: Saint School):
Paul, at Alive and Young, also has a great "Word Made Fresh" satire of Mr. T on Mary and the Rosary.
Speaking of your Mother, today starts the Our Lady of Mt. Carmel Novena: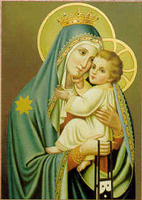 First Day
O Beautiful Flower of Carmel, most fruitful vine, splendor of heaven, holy and singular, who brought forth the Son of God, still ever remaining a pure virgin, assist us in our necessity! O Star of the Sea, help and protect us! Show us that you are our Mother!
(pause and mention petitions)
Our Father, Hail Mary and Glory Be
Our Lady of Mount Carmel, pray for us.