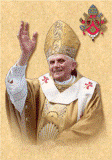 Pope Benedict's prayer intentions for the month of April:
Pope Benedict's general prayer intention is: "That Christians, even in the difficult and complex situations of present-day society, may not tire of proclaiming with their lives that Christ's resurrection is the source of peace and of hope".
His mission intention is: "That the future priests of the young Churches may be constantly more formed culturally and spiritually to evangelize their nations and the whole world".
H/T American Papist. Also from the Papist: The Popemobile has arrived! Be sure to check out Benedict in America for all the details of Pope Benedict XVI's visit in just 12 days!
Speaking of popes, today is the anniversary of the death of John Paul II. See my post at Reflections: JP II and the Culture of Life. Here are pics of your humble blog hosts greeting the late pontiff in 2001: