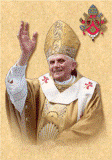 For the past couple of days I've been watching non stop live coverage of the Pope's visit on EWTN with commentary from Raymond Arroyo and Fr. Richard John Neuhaus, whom I adore. I have been trying to catch all of his speeches, but there are just too many to keep up with! I wanted to comment on some of them, but I am going to have to read them all again online some time. They are so dense, though rich in truth and love.
When addressing the faithful he has touched on many different topics – respect for life, the clergy sex abuse, vocations – but the theme has remained constant – Christ! – Christ as truth, hope and freedom. He has been especially urging people to deepen their own personal relationship with Christ through prayer, which he calls "hope in action." This, he told his brother Bishops on Wednesday, is where more priestly vocations will come from and how young people will be able to discern the will of God:
Prayer itself, born in Catholic families, nurtured by programs of Christian formation, strengthened by the grace of the sacraments, is the first means by which we come to know the Lord's will for our lives. To the extent that we teach young people to pray, and to pray well, we will be cooperating with God's call. Programs, plans and projects have their place; but the discernment of a vocation is above all the fruit of an intimate dialogue between the Lord and his disciples. Young people, if they know how to pray, can be trusted to know what to do with God's call.
This was also his message to the young people at St. Joseph Seminary yesterday:
What matters most is that you develop your personal relationship with God. That relationship is expressed in prayer. God by his very nature speaks, hears, and replies. Indeed, Saint Paul reminds us: we can and should pray constantly (1 Thess 5:17). Far from turning in on ourselves or withdrawing from the ups and downs of life, by praying we turn towards God and through him to each other, including the marginalized and those following ways other than God's path (cf. Spe Salvi, 33). As the saints teach us so vividly, prayer becomes hope in action. Christ was their constant companion, with whom they conversed at every step of their journey for others.
As the pope also said at the youth rally, "ultimately truth is a person: Jesus Christ" and we cannot know the truth and be freed by it unless we know the person of Christ.
I am surprised at how moved I have been by watching the pope this week. I mostly feel a great sense of joy and pride in my Catholic faith when I see the smiling face of this gentle and humble vicar of my Christ on earth. He's such a sweet and loving man (I love the way he rises from his chair to eagerly greet those who have just addressed him) and what I have noticed during this visit is that it is not so much his words – powerful as they are – but just his very presence that has brought excitement and hope, centered on Christ, to the Church in our country, at least for the moment. I pray that it will last.
Watch this video of the pope "mingling" with a large crowd of his fans outside his residence in NY. One person said it was "almost as good as seeing the Rolling Stones."
You can read text of all of his speeches and homilies at the Vatican website, or at the USCCB's Papal Visit site which includes audio and video.