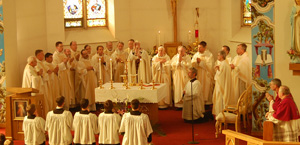 One of the most prayerful and dedicated priests in our diocese celebrated 25 years of priestly service this Sunday. He is associated with the work of Opus Dei and at his Jubilee Mass he openly acknowledged the important role Opus Dei plays in his religious formation. Among those in attendance at Fr. Korte's Jubilee celebration were Bishop Robert Finn (Kansas City/St. Joseph, MO) who is a member of the Priestly Society of the Holy Cross, the organization for diocesan priest "associates"of Opus Dei, and Fr. Jay Alvarez, a priest of the Prelature of Opus Dei.
In an interview with our local Catholic newspaper (no link available), Fr. Korte had many wonderful reflections on this important occasion:
On his calling:
"Some say that 90% of one's vocation comes from one's parents. Were it not for the strong Catholic formation I received at home, I would not be a priest today…

"I was immediately taken in by the story of that parish priest (from the book Everybody Calls Me Father) and all the work that he did with young people and I said, 'that's what I want to do.' From that moment forward, I never had a doubt about my vocation – even though I had doubts about myself, whether I could do it."
On his ordination and the priesthood:
"I was like a young man getting married. I was excited about my future in pastoral ministry – enthusiastic, hoping for the best and prepared to accept and deal with any problems as they came along…

"I am married to the Church…I have always seen celibacy as a great gift – not only practically but spiritually. To be solely dedicated to God is a real gift…[For priests, that] "hundred times more" (Mt. 19:29) refers not to a life of luxury but the spousal union of the priests with the Church and sacramental identification with Jesus the High Priest."
On working with young people:
"A large benefit of having a parish school is that I can spend time in it. Working with young people and taking their souls seriously has always been a big part of my priestly ministry. I have found that when we give them a challenge, they are up to it."
On prayer and the priesthood:
"I always say the human heart needs the Sacred Heart. We have the blessing of the Sacred Heart of Jesus living and beating, so to speak, in the Blessed Sacrament. It's a great gift. I especially feel that in the morning and in the afternoon when I spend time in adoration…

I'm all for the intellectual life and solid doctrine, but we also need prayer and solid piety with that. When you get out and into the parishes, you find that a lot of your strength is spent dealing with intense pastoral and spiritual issues. And you need to have a way to recover your strength. As a priest, you can get caught up in a kind of activism. So you don't want to neglect your prayer life. You need a way to re-energize between pastoral activities….

I've often said I would have been in the headlines were it not for a life of serious formation and prayer. I do get my serenity from Christ, and it is a gift. But I would easily lose it without prayer."
Finally, Fr. Korte asks for the prayers of all faithful Catholics:
"So, I would like them all to pray that I remain faithful and that I continue to grow in my love of God and the Church, of which they're all a major part."
Indeed we should always pray for all of our priests – and the Pope!
Read this article from the Catholic Key: Bishop Finn: Opus Dei has strengthened my spiritual life
According to the National Catholic Reporter Bishop Finn is one of four "Opus Dei Bishops" in the U.S. The others include Archbishop Jose Gomez of San Antonio, Bishop Nicholas DiMarzio of Brooklyn and Archbishop John Myers of Newark, N.J.