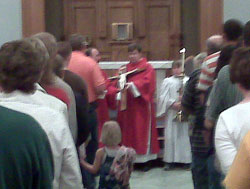 The second part of the Easter Triduum consists of the Veneration of the Cross. My camera phone didn't take a very good picture of this at the service we attended at St. Andrews in Holts Summit, MO last night.
I think Chelsea has written a good post on the Cross, something that so many in our society won't even take the time to think about. We have a lot of crosses and don't usually see them as ways to grow closer to Christ. I know I have this problem.
Venerating the Cross helped me to consider how upset I get at all the little things that go wrong instead of thanking God for the opportunity to shoulder my little tiny part.
Here it is Holy Saturday, a day that can best be described as a day of waiting with expectation. At least that's how I've always felt. It's a day for rest and contemplation, for an especially good examination of our conscience.