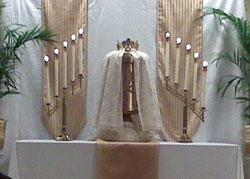 The Easter Triduum is one of my favorite times of the year. Yesterday at our Church, Cathedral of St. Joseph, we attended the evening Mass.
Our Bishop celebrated the Mass and afterward we had the procession with the Blessed Sacrament which was reposed for adoration until midnight in our side chapel.
We are blessed to have 24/7 Adoration here as well.