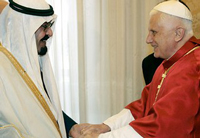 As Pope Benedict calls for an end to bloodshed in Iraq, recalling the "tragic loss" of Chaldean Catholic Archbishop Paulos Faraj Rahho of Mosul who was kidnapped and killed last month, and tensions between radical Islam and the West continue to escalate there are signs of hope.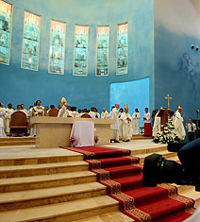 Earlier this month Vatican officials and some Muslim leaders met in Rome to lay the groundwork for landmark Catholic-Islamic talks later this year. King Abdullah of Saudi Arabia has been calling for expanded interfaith talks. The predominently Muslim country of Qatar has seen the opening of the first ever Catholic church. Negotiations are underway to build the first Catholic church in Saudi Arabia. And Pope Benedict baptized an outspoken Muslim convert at this year's Easter Vigil service in St. Peter's Basilica.
None of these things will bring immediate or groundbreaking peace, but they are steps in the right direction and signs of hope for the future.
See also:
A Common Word – the official website from Muslim scholars seeking dialogue between religions (h/t Driving Out the Snakes)