Last week's Our Sunday Visitor had an excellent article (subscribers only) on the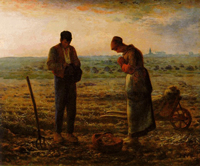 Angelus prayer and its possible contribution to the "pro-life arsenal." The Angelus is a prayer typically repeated three times a day – 6 a.m., noon, and 6 p.m. – recalling the conception and birth of Jesus Christ. Says OSV:
As people pray the Angelus, perhaps they will come to understand better the value of any human conception as they remember and honor the greatest conception of all time.
The words of the prayer:
Leader: The Angel of the Lord declared unto Mary.
Response: And she conceived of the Holy Spirit.
Hail Mary . . .
Leader: Behold the handmaid of the Lord.
Response: Be it done unto me according to your word.
Hail Mary
Leader: And the Word was made flesh,
Response: And dwelt among us.
Hail Mary . . .
Leader: Pray for us, O holy Mother of God.
Response: That we may be made worthy of the promises of Christ.
Leader: Let us pray.
Response: Pour forth, we beseech you, O Lord, your grace into our hearts, that we, to whom the incarnation of Christ your Son was made known by the message of an angel, may by his passion and cross be brought to the glory of his resurrection, through the same Christ Our Lord.
Amen.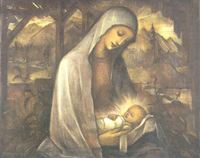 JP II's favorite passage from Vatican II, Gaudium et Spes 22, says that, "only in the mystery of the incarnate Word does the mystery of man take on light." Indeed, as the document goes on to explain, by His incarnation, Christ has united himself with every man and therefore fully reveals man to himself. Christ not only became man, but chose to identify totally with all humankind, even in its weakest and most vulnerable state. The more we meditate on the profound mystery of the Word made flesh, the more we come to understand and appreciate the dignity of every human person, born and unborn.
Note: during Easter the Regina Caeli is said in place of the Angelus.