I have been reading the Pope's latest encyclical, Spe Salvi. If you haven't yet found any good Advent spiritual reading, I highly suggest this reflection on Christian hope. Here is an example.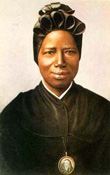 "To come to know God – the true God – means to receive hope…we possess the hope that ensues form a real encounter with this God." At this point (paragraph 3) the Pope relates the story of the African Saint Josephine Bakhita who was once a slave under the harshest conditions. After being bought by an Italian merchant she came to know a new master – the master "above all masters, the Lord of all lords, and that this Lord is good, goodness in person. She came to know that this Lord even knew her, that he had created her—that he actually loved her."
This encounter gave her real hope, to which she proclaimed, "I am definitively loved and whatever happens to me—I am awaited by this Love. And so my life is good."
This Advent we await the joyful coming of this Lord and master who, though he has not yet "come in Glory", is surely a living reality today. He died to prepare a place for us in in heaven (see John 14), where he too waits for us at the right hand of His Father.