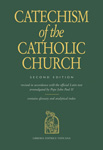 This is a cute video from That Catholic Show on the intimidating Catholic Catechism.
As I've been surfing through SQPN, the Catholic podcast network and finding many cheap online viagra other good things. My favorite is the Secrets of Harry Potter podcast by Brother Giles Baker. Mark Shea has called Harry Potter the, greatest Christian fantasy epic of our generation. I typically just enjoy Harry Potter as a good story with characters I really care about, not thinking a whole lot about religious imagery, but this podcast brings a lot of that imagery to light.
There are also podcasts for the secrets of The Lord of the Rings, Narnia, Star Wars and even The Pirates of the Carribean.
Previous HP posts:
Catholics and Harry Potter
To Rowling's Credit
A Pro-Life Harry Potter?
Harry Potter, Magic and Contraception