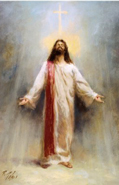 I was asked once to desccribe how I envisioned Heaven. I never answered because, quite frankly my mind draws a complete blank at the thought. However, in Spe Salvi Pope Benedict gives an excellent reflection on eternal life (paragraphs 10-12). Here's a piece:
To imagine ourselves outside the temporality that imprisons us and in some way to sense that eternity is not an unending succession of days in the calendar, but something more like the supreme moment of satisfaction, in which totality embraces us and we embrace totality—this we can only attempt. It would be like plunging into the ocean of infinite love, a moment in which time—the before and after—no longer exists. We can only attempt to grasp the idea that such a moment is life in the full sense, a plunging ever anew into the vastness of being, in which we are simply overwhelmed with joy. This is how Jesus expresses it in Saint John's Gospel: "I will see you again and your hearts will rejoice, and no one will take your joy from you" (16:22).
Suck on that for a while.
The Pope says that this is how we must think if we are to truly understand the object of Christian hope and what our faith leads us to expect.
See the Catechism of the Catholic Church on Heaven.