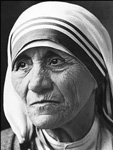 Mother Teresa's darkness, highlighted in a recent book of her letters, has been criticized by many in the secular world, like this article in Newsweek by atheist author Christopher Hitchens.
The recent edition of the Catholic World Report contains an article on the Missionaries of Charity and the 10th anniversary of Mother's death with a sidebar on the controversy of her "anguished faith." There is no link available but here are some of the highlights. Archbishop Henry D'Sousa of Calcutta says,
"The book shows that the Mother was an ordinary human being and went through difficulties like others. Despite her doubts and problems, she always committed herself to God and service to the poor. That's the model of a great soul."
Archbishop Lucas Sirkar, Abp. D'Sousa's successor adds,
"Those who are questioning the faith of the Mother have no idea of what spiritual life is. The more you move forward in the path to saintliness or holiness, the more you have to struggle against that which is not holy
From Sister Nirmala, Mother Teresa's successor,
"This is a trial only few souls go through. It happens when God enters their hearts in a very powerful way. The light is so strong and the human capacity is so small. What happens when you look at the blazing sun? You are blinded. It is like that."
I am pretty sure this trial happens to more souls than we think and indeed may perhaps enter the soul of every believer at some point in their spiritual journey. But we should not fear in time of trial for our Reasons to Believe are more than mere feelings.
In this you rejoice, although now for a little while you may have to suffer through various trials, so that the genuineness of your faith, more precious than gold that is perishable even though tested by fire, may prove to be for praise, glory, and honor at the revelation of Jesus Christ. Although you have not seen him you love him; even though you do not see him now yet believe in him, you rejoice with an indescribable and glorious joy, as you attain the goal of (your) faith, the salvation of your souls (1 Peter 1:6-9).