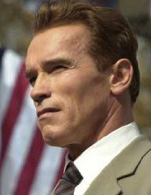 This is why it is important for voters, Republicans especially, to hold fast to their conservative, Christian values in the next election. If we don't, nothing will stop "Republicans" like Gov. Schwarzenegger from becoming the mainstream of the party that traditionally protected the sanctity of life and marriage (H/T Regular Guy Paul):
"Mom and Dad" as well as "husband and wife" have been banned from California schools under a bill signed by Gov. Arnold Schwarzenegger, who with his signature also ordered public schools to allow boys to use girls restrooms and locker rooms, and vice versa, if they choose…

The bills signed by Schwarzenegger include SB777, which bans anything in public schools that could be interpreted as negative toward homosexuality, bisexuality and other alternative lifestyle choices.

There are no similar protections for students with traditional or conservative lifestyles and beliefs, however…

Also signed was AB394, which targets parents and teachers for such indoctrination through "anti-harassment" training, CCF said…

Thomasson said SB777 prohibits any "instruction" or school-sponsored "activity" that "promotes a discriminatory bias" against "gender" – the bill's definition includes cross-dressing and sex changes – as well as "sexual orientation."…

Offenders will face the wrath of the state Department of Education, up to and including lawsuits.

CCF noted that now on a banned list will be any text, reference or teaching aid that portrays marriage as only between a man and woman, materials that say people are born male or female (and not in between), sources that fail to include a variety of transsexual, bisexual and homosexual historical figures, and sex education materials that fail to offer the option of sex changes.

Further, homecoming kings now can be either male or female – as can homecoming queens, and students, whether male or female, must be allowed to use the restroom and locker room corresponding to the sex with which they choose to identify.

AB394 promotes the same issues through state-funded publications, postings, curricula and handouts to students, parents and teachers.

It also creates the circumstances where a parent who says marriage is only for a man and a woman in the presence of a lesbian teacher could be convicted of "harassment," and a student who believes people are born either male or female could be reported as a "harasser" by a male teacher who wears women's clothes, CCF said.

Thomasson said Schwarzenegger also signed AB14, which prohibits state funding for any program that does not support a range of alternative sexual practices, including state-funded social services run by churches.

Affected will be day cares, preschool or after-school programs, food and housing programs, senior services, anti-gang efforts, jobs programs and others.
If this isn't a case for homeschooling, I don't know what is. If you can stomach more religious discrimination, here is an article about condo owners who have been told to remove all religious statues from gardens and other common areas in the community.