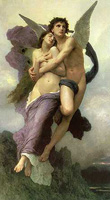 Have you thanked God for your guardian angel today? The angels that God has given us are meant to guide, protect and intercede for us, but they can also become our best companions! One is never too old to speak to one's guardian angel as one would an old and dear friend. For that matter, one is also never too old for this timeless prayer:
Angel of God my guardian dear,
To whom God's love commits me here,
Ever this day be at my side
To light, to guard
To rule and to guide.
Amen.
As I was just watching EWTN, I was reminded by Fr. Mitch Pacwa that we can also pray to other peoples' guardian angels. Every single person has a guardian angel, even our worst enemies, and we can also pray to these angels for the salvation of souls.