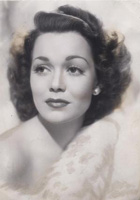 Our Sunday Visitor has an article this week about the late actress Jane Wyman and her "role as faithful Catholic." She is also well known for being the first wife of Pres. Ronald Reagan and the mother to his children Maureen (died in 2001 from melanoma), adopted Michael an author and talk show host, and Christina (died 1947 from premature birth). According to OSV, her movie, The Blue Veil, for which she won the Golden Globe and received an Oscar nomination, was the source of her conversion:
Filmed in and around St. Patrick's Cathedral in New York City, "The Blue Veil" "hit her in the face" regarding all she had learned about the Catholic faith from her good friend and fellow A-list actress Loretta Young, Zamboni said. Wyman had been attending Mass at Good Shepherd Church in Beverly Hills with Loretta in the wake of her 1948 divorce, as well as the death, the year before, of her second baby, Christina, with then husband and future president Ronald Reagan…

A couple of years later — on Dec. 8, 1954 — she was received into the Catholic Church, along with her children, Maureen and Michael.
After her conversion, Wyman spent much of her life giving back what she had been blessed with. Her two main charities were the Catholic Church and the Arthritis Foundation, but she also supported Hollywood's Covenant House and the Dominican run Our Lady of the Angels Monastery.
A Third Order Dominican, she was buried wearing the habit in a simple pine coffin. Upon her death, her son, Michael said:
"I have lost a loving mother, my children Cameron and Ashley have lost a loving grandmother, my wife Colleen has lost a loving friend she called Mom and Hollywood has lost the classiest lady to ever grace the silver screen."
Also starring Jane Wyman:
The Yearling
Johnny Belinda
The Glass Menagerie
Pollyanna
Falcon Crest
among many many others…