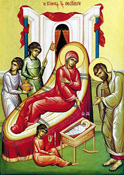 Today is the feast of the Nativity of the Blessed Virgin Mary. As our priest said this morning, today is a feast of hope. It is a reminder of God's love for us and for what awaits us in heaven. Today we celebrate the birth of the Blessed Virgin, whom God sent to be the Mother of our Lord, who died to offer us eternal life. This is the greatest prayer that I can think of on this blessed day:
Hail Mary, full of grace
the Lord is with thee,
Blessed are thou among women
and Blessed is the Fruit of thy womb
Jesus
Holy Mary, Mother of God
Pray for us sinners
now and at the hour of death,
Amen.