I must apologize. I was having server problems yesterday, so I was not able to post the final novena prayer. I tried to keep it going all nine days, but I ran into circumstances beyond my control yesterday. My humble apologies to all.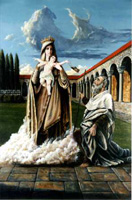 Ninth Day
O Most Holy Mother of Mount Carmel, when asked by a saint to grant privileges to the family of Carmel, you gave assurance of your Motherly love and help to those faithful to you and to your Son.
Behold us, your children.
We glory in wearing your holy habit, which makes us members of your family of Carmel, through which we shall have your powerful protection in life, at death and even after death.
Look down with love, O Gate of Heaven, on all those now in their last agony!
Look down graciously, O Virgin, Flower of Carmel, on all those in need of help!
Look down mercifully, O Mother of our Savior, on all those who do not know that they are numbered among your children.
Look down tenderly, O Queen of All Saints, on the poor souls!
(pause and mention petitions)
Say: Our Father, Hail Mary and Glory Be
Our Lady of Mount Carmel, pray for us.