I just got back from another busy Fourth of July. Every year I help set up a pro-life table at our downtown 4th of July festivities with a woman from my parish and a number of the home schooled kids in my area. This year, as president of our Legion of Mary praesidia, I decided to do a Catholic information table with some help from the Knights of Columbus. Everything worked out well, as it always does. We gave out lots of good information to the people who needed to see it. I hope to get my pictures up tomorrow – I'm pooped right now! I'm actually in bed getting ready to call it a night. We were set up downtown from about 11am to 7pm and I was there for the whole thing. It was very warm and very tiring for me! I hope everyone had a very blessed holiday! Here's a great poem that I posted on my blog earlier today: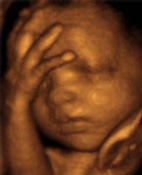 I Am An American

I am endowed by my Creator
With the inalienable right to life
Just like you, and every other American.
You know who I am.
Now that you can see my face,
Will you use your voice?
Please tell America,
I am an American, too.

America, it's time to protect your children again.
That is a poem I have on one of my pro-life t-shirts and it fits very nicely with the 4th of July. As we celebrate our freedom this Independence Day we would do well to remember the millions of Americans whose freedom has been taken away in this country and pray for its restoration.
We hold these truths to be self-evident, that all men are created equal, that they are endowed by their Creator with certain unalienable Rights, that among these are Life, Liberty and the pursuit of Happiness.
Happy 4th of July!
God Bless you all!