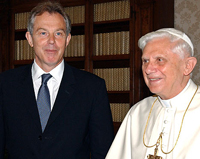 Earlier this month I told you that it has been long rumored that Tony Blair was on the way to becoming Catholic. In a meeting with Pope Benedict XVI, he and the pontiff shared a "frank exchange" on "particularly delicate subjects" – which probably refers to the delicate subject of Blair's support for abortion, gay adoption, same-sex marriage and stem-cell research. After that meeting, during the Angelus the Pope mentioned a need for "true conversion," stating:
"Today, as the Church celebrates the birth of St John the Baptist, let us ask for the gift of true conversion and growth in holiness, so that our lives will prepare a way for the Lord and hasten the coming of His Kingdom."
True conversion is not simply switching from one church to another, but changing one's entire being – abandoning oneself to the will of the Heavenly Father and striving for holiness. Who knows what Tony Blair's reasons for possibly converting actually are, regardless, we should pray that he will soon have a change of heart and soul which will lead him to love an appreciate the Church and all of her teachings, especially regarding human life.