"You have heard that it was said, 'An eye for an eye and a tooth for a tooth.'But I say to you, offer no resistance to one who is evil. When someone strikes you on (your) right cheek, turn the other one to him as well. If anyone wants to go to law with you over your tunic, hand him your cloak as well. Should anyone press you into service for one mile, go with him for two miles.
Today's Gospel reading from Matthew (5:38-42) reminds us of our call to forgiveness and to love our enemies. This message is particularly important for us today in light of recent events, such as the gruesome discovery of 18 year old Kelsey Smith's body after she was abducted in a Target parking lot. I remember vividly when I was living in Florida last year, which seems to be the child abduction capitol of the world, a press conference with the mother of an abducted and murdered child addressing her daughters murderer. My heart ached as I listened to this beautiful heartbroken woman spew words of venomous hatred at her enemy to the point that she even wished him eternal damnation. I was sad not only for the terrible loss of her child, but also for the loss of love and forgiveness within her heart.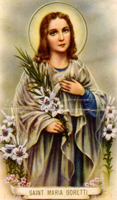 Forgiveness is difficult, to say the least, especially when we have been wronged in the most painful sort of way. But the gate that we must pass through is narrow, it is difficult, it is painful, but with Our Lord it is possible. In these difficult situations I always think of St. Maria Goretti who, after having been stabbed to the point of death by a family friend who wished to rape her, when asked if she forgave her attacker, replied:
"Yes! Yes!" she replied, "For the love of Jesus, I forgive him, and I want him to be with me one day in heaven!"
After getting out of jail, Alessandro Serenelli, her murderer, fled to Maria's mother, Assunta, begging her forgiveness, which she readily gave him. The two even attended Christmas Mass together, receiving communion side by side. More recent examples of extraordinary forgiveness include: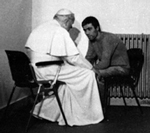 -JPII's visit to Mehmet Ali Agca's jail cell after he attempted to kill the late pontiff
-A Somalian nun offering forgiveness to her killers in her dying breaths
-A Pennsylvanian Amish community forgiving the man who held a number of Amish schoolgirls hostage, killing 5
These stories show us that forgiveness is possible if we open our hearts to compassion. Compassion, rooted in prayer, allows us to see others in the light of Christ – to realize that "the God who loves you unconditionally loves all of your fellow human beings" without exception (Henri Nouwen). This means that everyone, even the most hardened criminal, is worthy of our love and forgiveness, even if they do not accept it.