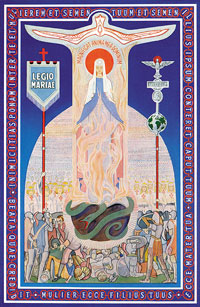 What are you doing to honor our Blessed Mother this month? Have you considered joining the Legion of Mary? I have been an auxiliary member for a number of years while my wife has been an active member, visiting and bringing communion to the nursing homes. This year, my oldest daughter became the president of our parish's Praesidium. If you are not familiar with the Legion, here is a brief explanation from the official website:
The Legion of Mary was founded in Dublin, Ireland on 7 September 1921. It is a holinelay catholic organisation whose members are giving service to the Church on a voluntary basis in almost every country.
The object of the Legion of Mary is the glory of God through the holiness of its members developed by prayer and active co-operation in Mary's and the Church's work.
The unit of the Legion of Mary is called a praesidium, which holds a weekly meeting, where prayer is intermingled with reports and discussion. Persons who wish to join the Legion must apply for membership in a Praesidium.
The great thing about the Legion is that there are two different levels of involvement. First there are active membership. Active members carry out a weekly apostolic work in the spirit of faith and in union with Mary and attend regular weekly meetings. However, if you're unable to undertake active duties there is an auxiliary membership. These members provide spiritual support for the Legion through the daily recitation of the Rosary and the Legion prayers.

Some of the work includes:
Instructing and preparing others to receive the Sacraments
Teaching the Catholic faith to children or adults
Assisting the pastor with conducting a census of his area
Visiting jail inmates, the hospitalized, the homebound sick or elderly, or residents of nursing homes
Distributing rosaries, medals, Catholic literature in a crowd contact area
Rooted firmly in prayer, the Legion is organised on the model of an army, a spiritual army. The commander of this army is our Blessed Mother, with whom we work to bring souls closer to her Son, Jesus.
This is a great way to honor Our Lady and to work for the salvation of souls. Why not make a membership in the her Legion your gift to your mother Mary this Mother's Day? Visit these websites or contact your parish or diocese office for more details: