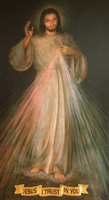 Today, on Divine Mercy Sunday, we celebrate the deep ocean of love and mercy Jesus has for all mankind from which he forgives even the most hardened sinners.
Eternal Father I offer you the body and blood, soul and divinity of your dearly beloved Son our Lord Jesus Christ, in atonement for our sins and those of the whole world.
For the sake of His sorrowful Passion, have mercy on us and on the whole world!