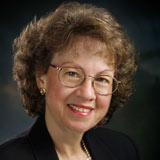 Read St. Louis Catholic's interview with the well-known Catholic apologist and Jewish convert Rosalind Moss about her in St. Louis with the permission of Archbishop Burke. Her plan is to "flood the world with holy habits as signs to God." Some excerpts:
The desire that I have is to reach the poor, and the rich, and every class of society, and race, creed, tribe, tongue and people…

We will be a contemplative/active, evangelistic and teaching order. Contemplative and active, because service is the fruit of prayer, and we wanted nothing apart from prayer and apart from God…

we are in the process of designing the habits. And they will be to the floor (laughs), that's for sure! We're going to work with families, we're going to teach the faith in the convent, we're going to show films in the convent, we're going to talk about God. I just want to reach people. I want to help families live for God.
The order will be under the patronage of St. Francis de Sales and they have already received dozens of vocation inquiries.